Singapore: The Wanderings pt.2 + Rita and the doggos
written by Daniel B.
10.30.2022
0 comment(s)
It's been MONTHS (6 weeks) since arriving in Singapore. Finally after countless hours of engine work, painting, updating, more engine work, and cleaning, we are almost ready to depart for the maiden voyage. Now it's time to get ready for the long 600 nautical mile sail north to Phuket. This includes getting the dogs situated, provisioning, and saying goodbye to all of the amazing people we've met along the way... aka party time!
Let's talk food....
Let's not pretend this has been all work and no play... Not at all. We have eaten some of the best food, enjoyed some of the best company, and had some of the most random adventures in the last few weeks. From the Indian food in Little India, Chinese style tapas in Chinatown, Saké and exotic Japanese fish from local markets and of course, we can't leave out our most favorite of all... margaritas at Los Amigos!
"Los Amigos" you say? Mexican food in Singapore??? Well yes actually. As far as people, ambiance, food and drink go, you won't find a better host than Xavier and his crew at Los Amigos. This place will stay at the top of our list for years to come.
If you're looking for something a little different, a few of our other favorites include:
Sake Labo - Chinatown - We HIGHLY Recommend this place
Sake Labo is a traditional style Japanese restaurant with exotic flair and exceptional service. Elijah, the bartender was one of the most attentive and interesting people I've had the pleasure of meeting this side of the world. They recently added a Portuguese chef, Tiago who is, oddly enough from Rita's hometown! You have to order the Wagu (see pictures). It's hands-down one of the most impressive dishes I've ever eaten and will NOT fail to impress.
Fifth Seasons Kolkata Beckons - Little India - 5 star experience
Kolkata, a melting pot of cuisine influenced by Moghuls, Dutch, Portuguese, French and not to mention the British rule in India with Kolkata as its capital. The result was a unique blend of cuisines, where local ingredients were adapted to French and Western cooking techniques – characterised by creamy sauces, the restrained use of spices, and new techniques such as baking, grilling, frying, poaching, steaming and roasting.
I wouldn't necessarily classify this as Indian food, however, if you find yourself in Little India, This place is well worth a visit. It's also relatively close to the train station and main square in Little India so there is lots to see and explore around.
Shukuu Japanese Izakaya and Sake bar - Exceptionally amazing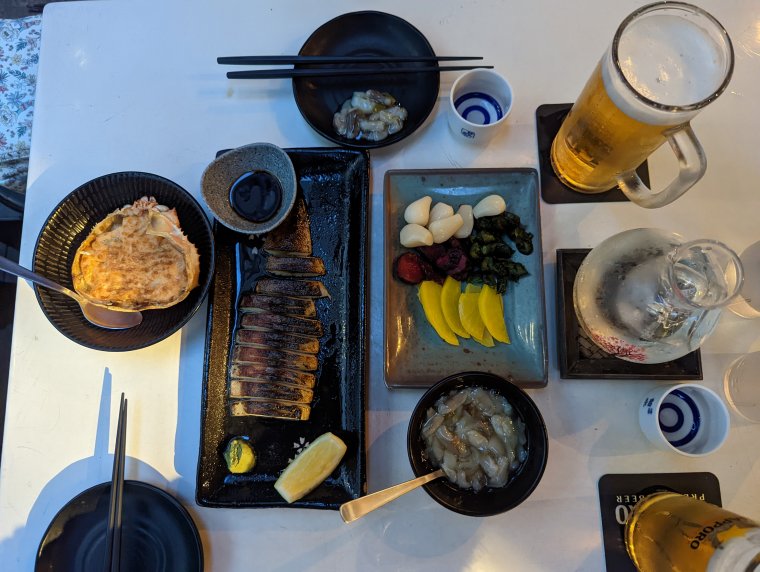 We were both genuinely impressed with the food here. Only caveat is you better have a reservation, otherwise you'll be stuck at a table that's knee height and stools that are basically on the ground

Hawker centers are also a great way to try a wide variety of food from around the world without breaking the bank. They are everywhere, all over the country and has sported some of the more interesting dishes I've had here.
Little India
Little India took the Gold Medal for overall flavor, experience and ambiance. The best way to go at this neighborhood and all of it's flavors is to not eat at just ONE restaurant. In a night we managed to eat at 4, one course (and naan) at each.